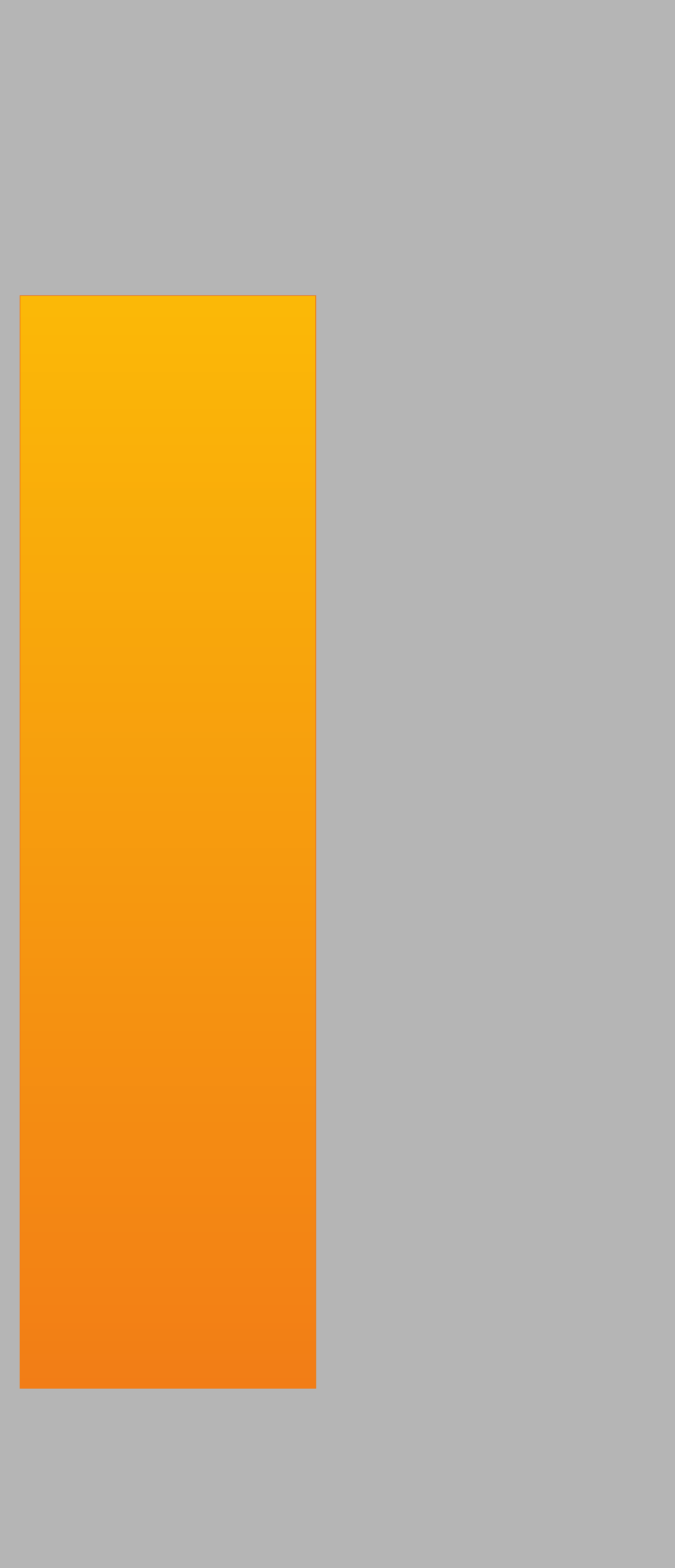 Joe Rivera
Natural Stone, Concrete & Metal Sculptor
When George Stastny sought an apprentice to take over his life's work, he needed someone with a will to master all of the aspects required. The pots created require knowledge of working in metal as well as stone. Working with concrete one finds a material that can be as loose as wet clay and as firm as solid granite, and at each stage is everywhere between.
I have worked with sculptors in metal, wood and stone, and have created art in each of those media. The pots at Stastny Stone Pots are a culmination of my training in all aspects of sculpture and my full time year long apprenticeship and subsequent work with George Stastny.
I have brought movement and a whimsical flair to some of the pieces as can be seen on this website.
Some of my own metal and stone sculptures are on display on his own website or at Stastny Gardens and Art Gallery.
I take great pride in creating the perfect form required of each stone pot created by our husband and wife team. The form of any object is the basis that gives it it's quality of life. Getting the form just right makes it an art piece in itself, whatever is done or added later. The form makes it move while it sits still.
Another aspect of the art is its depth of structure. This leads into other subjects than art in terms of longevity, ability to withstand harsh temperate zones and other purely practical considerations, but from a purely artistic view this adds a depth of the design that one can experience.
Creating one of these is projecting it into the future for many generations to come. I believe this art gives these future generations an exceptional snapshot of who we are and what our time represents.
Born into a family of artists–her father was a writer, her mother a world-renowned sculptor and brother a musician–the arts were in Cristi's blood from the start. Dancing from the age of four, it was in high school she discovered her love for photography and as a young teenager dreamt of pursuing a life as an artist.
After college and and over the following 15 years, in addition to raising their two sons, she continued to create in a variety of art forms, such as photography, graphic design, interior design, metal sculpture, mosaic, and of course her first love, dance.
In October 2006 Cristi happened upon a very rare and unique opportunity to apprentice with Czech master sculptor, George Stastny, who was retiring and looking to pass on his unique art form . With Cristi's dream to pursue the arts as a full-time career she knew this was an opportunity to not only fulfil this important life goal, but to carry on the unique art form George had created and perfected over the previous 26 years, which otherwise might possibly have faded away along with his retirement.
With the deal sealed after dozens of discussions as well as a trial apprenticeship, where their artistic as well as physical abilities were proven beyond a doubt, the business and gallery were purchased by Joe and Cristi in February 2007. Having completed a one year full-time apprenticeship learning the craft under George's direction and hands-on supervision in 2007 and five additional years under their belts, the pieces being created today are of the utmost quality and workmanship, following closely all of George's precise techniques.
The hand-carved concrete, mosaic and metal art creations Cristi produces today are a testimony to her innate artistic abilities and passion for the arts and life.
Cristi's passion for design and the creation of aesthetic environments have at their most basic root a sincere desire to help others live more beautiful and meaningful lives. "I truly believe this is the role of any artist, no matter his medium. By helping to make people's personal environments more aesthetic and peaceful, with the creation of these one-of-a-kind pieces, I hope to achieve at least a contribution to this goal."
Cristi Mason-Rivera
Concrete & Metal Sculptor & Mosaic Artist
Concrete Sculptor and Mosaic Artist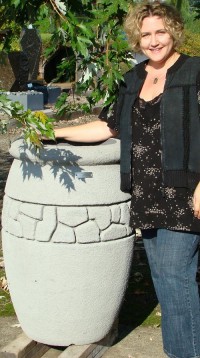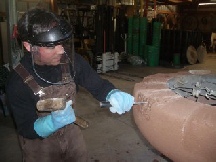 Joe sculpting a stone pot made of concrete.
Cristi standing next to one of her hand-carved concrete planters
Stastny Stone Pots and Gallery is the story of two artists. Below is a little about each of them. Joe and Cristi create concrete pots, fountains, concrete fire pits (firepots), stone sculptures, mosaic and metal art sculptures and many other landscape and architectural stone & concrete sculptures that will last for generations to come.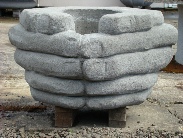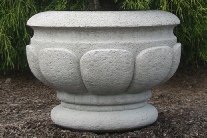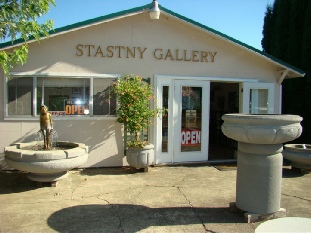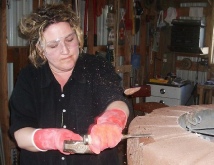 Cristi sculpting a stone pot made of concrete.